Figuring out what skateboarding means to me has become increasingly difficult over the past few years. I'm not talking about the act itself, rather the values and social cues that are so ingrained in our identities, which take time to grow as you grow. Once you've learned these behavioral patterns, interacting with other skaters – maybe even people in general – becomes somewhat of a game of chess. Every contest, premiere, or street skating session ends up falling for the same tropes they always have and always will. It's a beautiful thing, really.
With regular events returning for the Summer – three years after you-know-what happened, it was due time for a collective refresher. Welcome to The Hague.
Over the past year Ziggy Schaap has been working on the new Vans video, Check Mate, starring Jip Koorevaar and Tjerk Oosting. To celebrate they hosted a premiere event at The Grey Space in the Middle. Great venue I must add. Accompanied by an expo, screenings of previous videos they have made, and a show by one of Aruba's finest: Kevin Schuit aka Badtime, this was sure to be one for the books.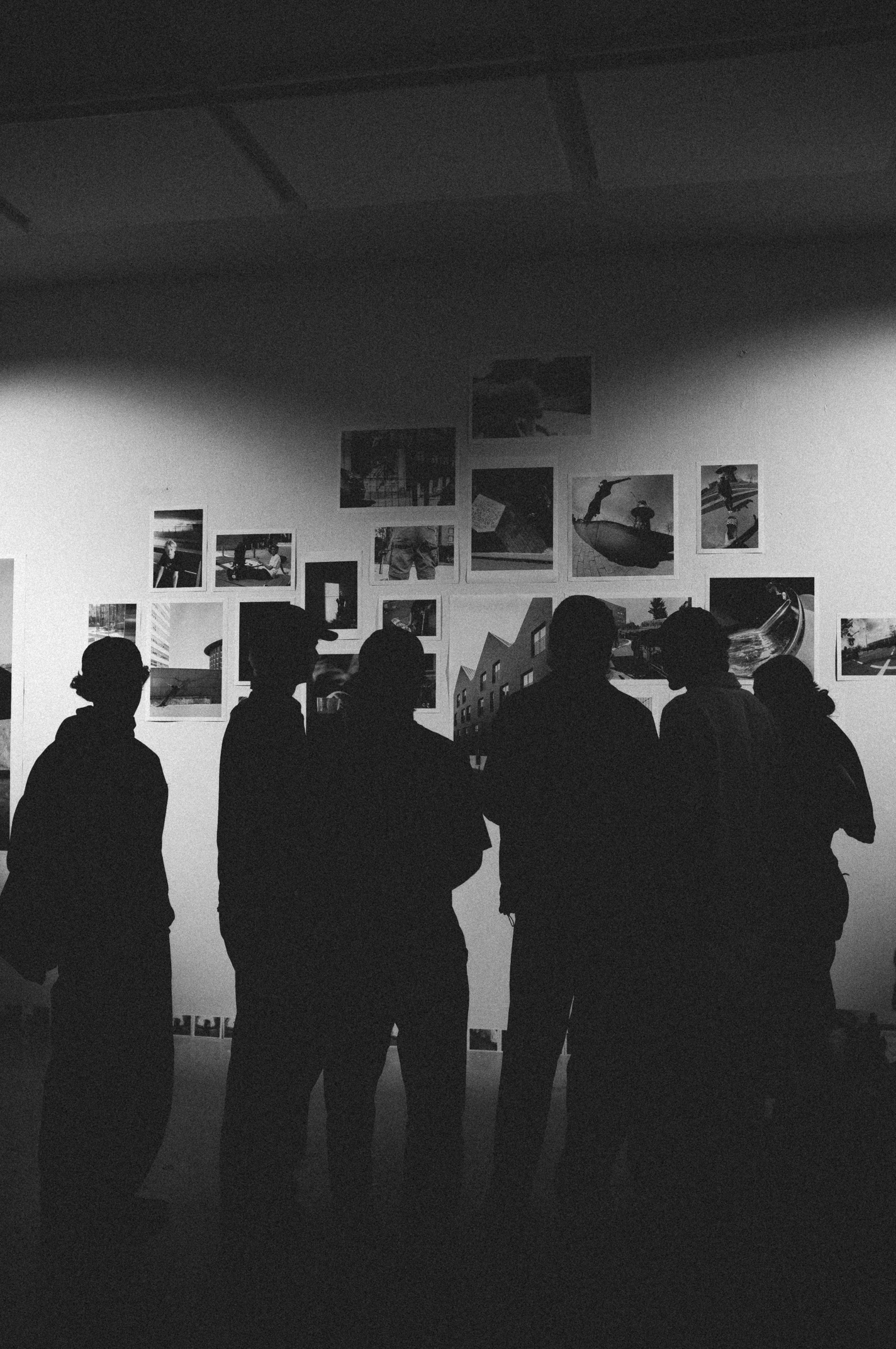 We arrive at a big industrial gate with a small fluorescent green sign to welcome you into the open-plan gallery space. Bar: straight ahead. Ziggy's foldable bike is propped up near the big window, walls are covered with photographs from the many sessions the squad has been on over the last year, crowd favorite the screenshot of a €50 Tikkie Jip received for landing his ender. A single chess table is set up right in the middle. Two people are sat down for a game.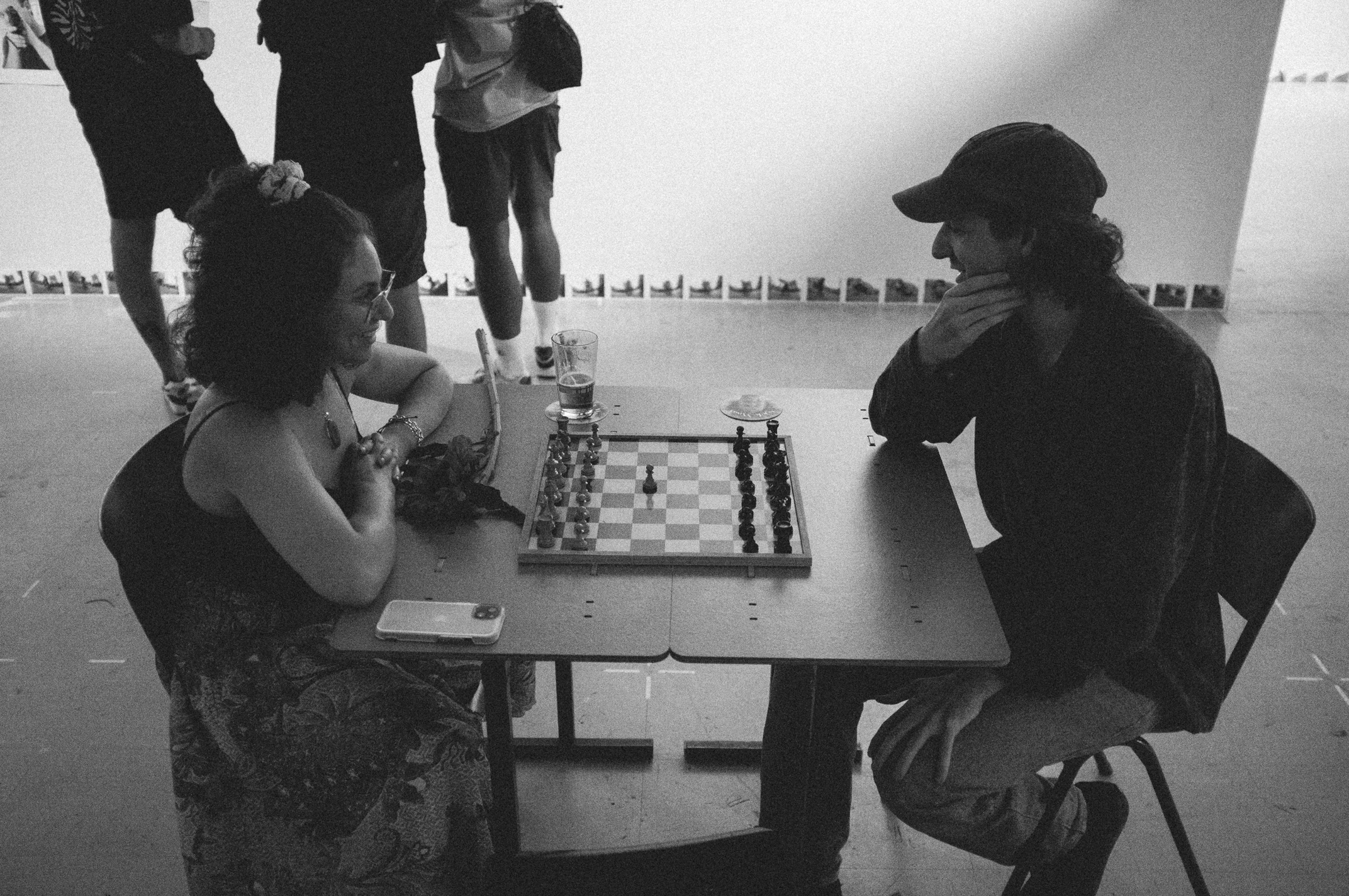 Outside, the kids have found their little nook to skate a bit of flat just slightly to the right of the entrance, still endlessly consumed by the skateboard itself. This has to be their first premiere – their introduction. Hopefully we all end up attending their own premiere in a couple years' time. The rest of the setting is all very on brand for a skateboarding event – The terrace is filled with people drinking beers, socializing and rolling the mandatory joints. The mood is up, everybody is excited for the premiere, so when 21:30 rolls around we know it's time to go inside.
The crowd of nearly a hundred people is settling into the basement of The Grey Space. Lights are off, it's dark, hot and cramped, the ceiling not much higher than the tallest person in the room. The kids have found their spot on the floor, right in front of the screen, as Ziggy teases the crowd by playing, then pausing, the first second of his long-awaited video, which is met with a collective cheer, then a loud boo from the crowd. I couldn't care less about his jokes at this point, to be honest – I'm just dying to see the video!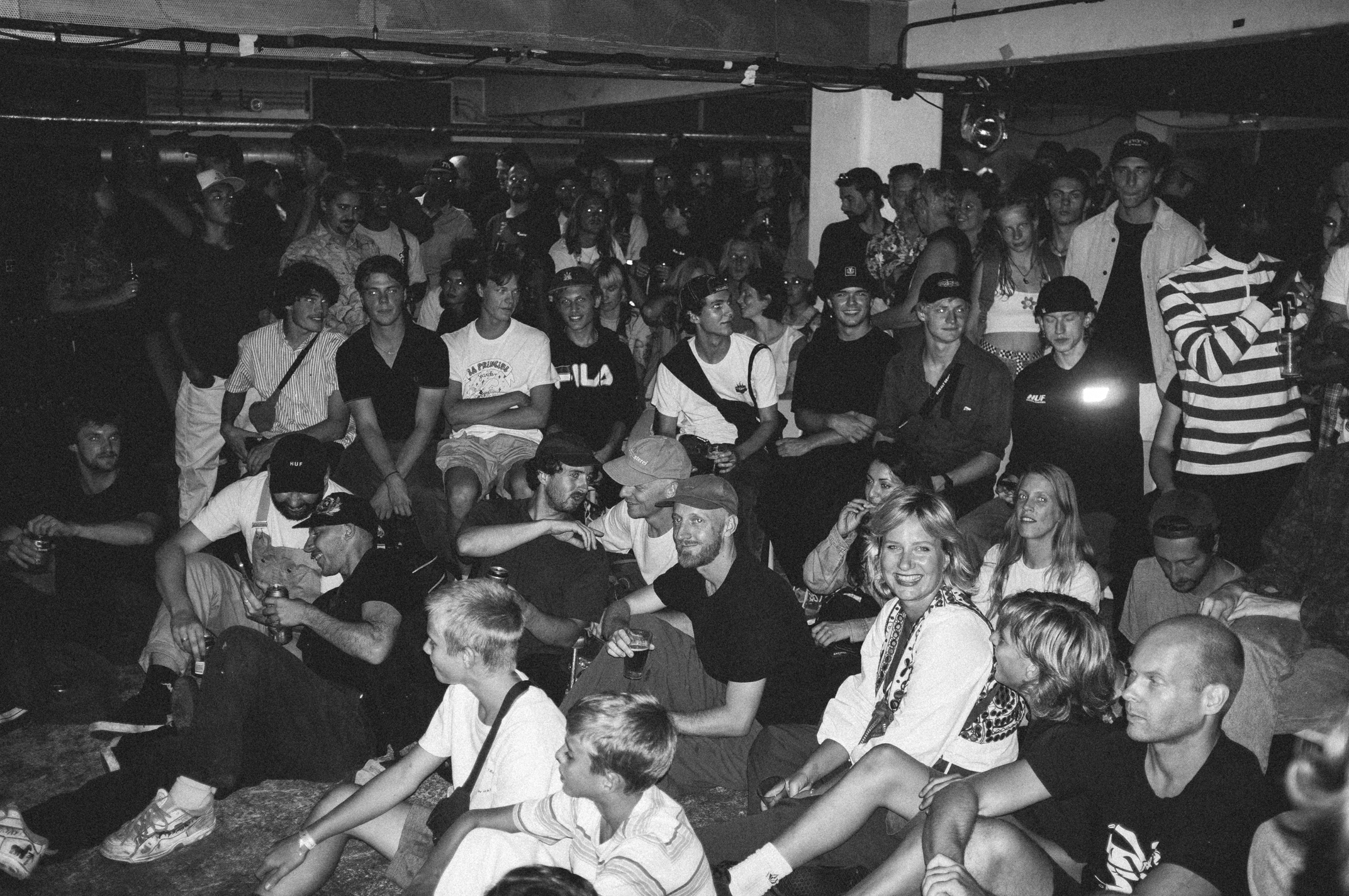 It's time, music starts. People cheer, phone cameras go up in the back for people to get a better view. The basement is packed.
The Koorevaar Opening
The video opens with an introductory Jip Koorevaar section. Former child prodigy, now 21 years old and really coming into his own, the world gets its first glimpse of what most of us Hagenezen/Hagenaren already knew – Jip is undoubtedly one of the best skaters in The Netherlands. His first street part. Starting off with a long line through the center of the city, going from one spot to another, Ziggy can really assist skaters with putting lines together à la Jacob Harris. Not a single trick goes by without some oohs, aahs and cheers scattered around the room.
Aforementioned ender is met with a big cheer, a standing ovation of sorts. Local boy has done it. We couldn't be prouder of you, Jip. You deserved that Tikkie.

Chaos in the Middle
Something that still lingers in Dutch skate culture from the 411VM days is the tendency to refer to the montage section of videos as chaos. They weren't lying. We are welcomed with our fair share of chaos – TM Sebastiaan Vijverberg does some wild polejams and hippy jumps. Nick Bax. Hugo Snelooper, people's champ. Cameos from the rest of the team, flow riders and homies follow. To my own pleasant surprise even I've managed to sneak a clip in there! This bit of chaos gives us the perfect segue to Bert Roeterdink, one of the many amazing skateboarders to come out of Deventer, showing us that we do, in fact, skate handrails in this manual-dominated skate scene. And does he.
Tjerk's Endgame
2021's unofficial Dutch SOTY. Of #QSTOP10 fame. Nose manual nollie 360 kickflip out. It's only fitting that Tjerk Oosting has curtains in the video. Very technical – kind of skateboarding's grandmaster – skating for the connoisseur. I wonder if the kids I mentioned earlier really 'get' this type of skating yet. I know I'm a fan. Tjerk's whole part is filled with manuals you couldn't think of in your sleep, capped off by four moves, mirrored, on the double manual pad in Rotterdam-West. You'll want to see this.
Another ovation from the crowd follows. People try to push Ziggy in front to give a speech. He declines, instead telling the crowd they're just going to play the whole thing again for everyone that didn't get a view the first time. Classic Ziggy. The crowd moves upstairs and outside to end the night the same way it all started – by hanging out with friends in the streets and talking shit, all while figuring out who's couch to crash on tonight.
They've done it. What a video. Congrats. I want to give a million thanks to Sebastiaan Vijverberg and Ziggy Schaap for creating something special, everyone that came out to our little beach town, and to The Grey Space in the Middle for not kicking everybody out. You know these skaters all brought their own beer to the bar. Checkmate.
- Alex