"Wooo", "Aaahh", "Ehhhh", and "Wojoo"
— these are some of the amazing sounds you hear at any skate video premiere. In a dark room, people are all sitting close together, beer tight in hand, looking at a bright screen, completely entranced by what they see. In these moments, I recognise something more special going on: love and absolute appreciation felt by an entire crowd. And it never gets old. 
Last Friday, I went to Valuta's premiere at Skatepark Noord, where they showcased their new full-length video "Wassuppers". After dropping their last video, "IF YOU HAPPY WITH IT, IT'S OKAY", earlier this year, the Valuta team has decided to bless us once again with some lovely VX footage of skaters destroying the Dutch streets. 
The place was packed, and you could already feel people's excitement resonating at the bar and café. Beers were being ordered left and right, others were eating some pizzas from Matto Noord, of which the Diavola, a pizza with hot salami, paprika, olives, and buffalo mozzarella was the most favourite, according to the ever-so busy pizzabakkers.
By 19:30, the skatepark was already a full house, with many of the Valuta members skating in the park. Music is pumping through the speakers, and everyone's filming clips. After getting a skate sesh and a delicious pizza in (not Diavola, but the Marinara with cheese), I see the lights turn off. And, along with everyone else, I had the mission to secure a good spot in the crowd, which ended up being on one of the banks in the park. And, since the video would be projected on the skatepark's wall, people scooted a bit forward to get a better view. Being there, I was surrounded by people coming to support the huge line-up for the Valuta video, featuring skaters from Amsterdam, Den Haag, Haarlem, and Arnhem. People took out some deck chairs while others sat on the banks. At the bar, others are quickly getting some last-minute beers and finding their friends in the crowd. Then, after lots of applause, Federico de Fies, Valuta's co-founder, gave a few thank-you words, and the video started playing.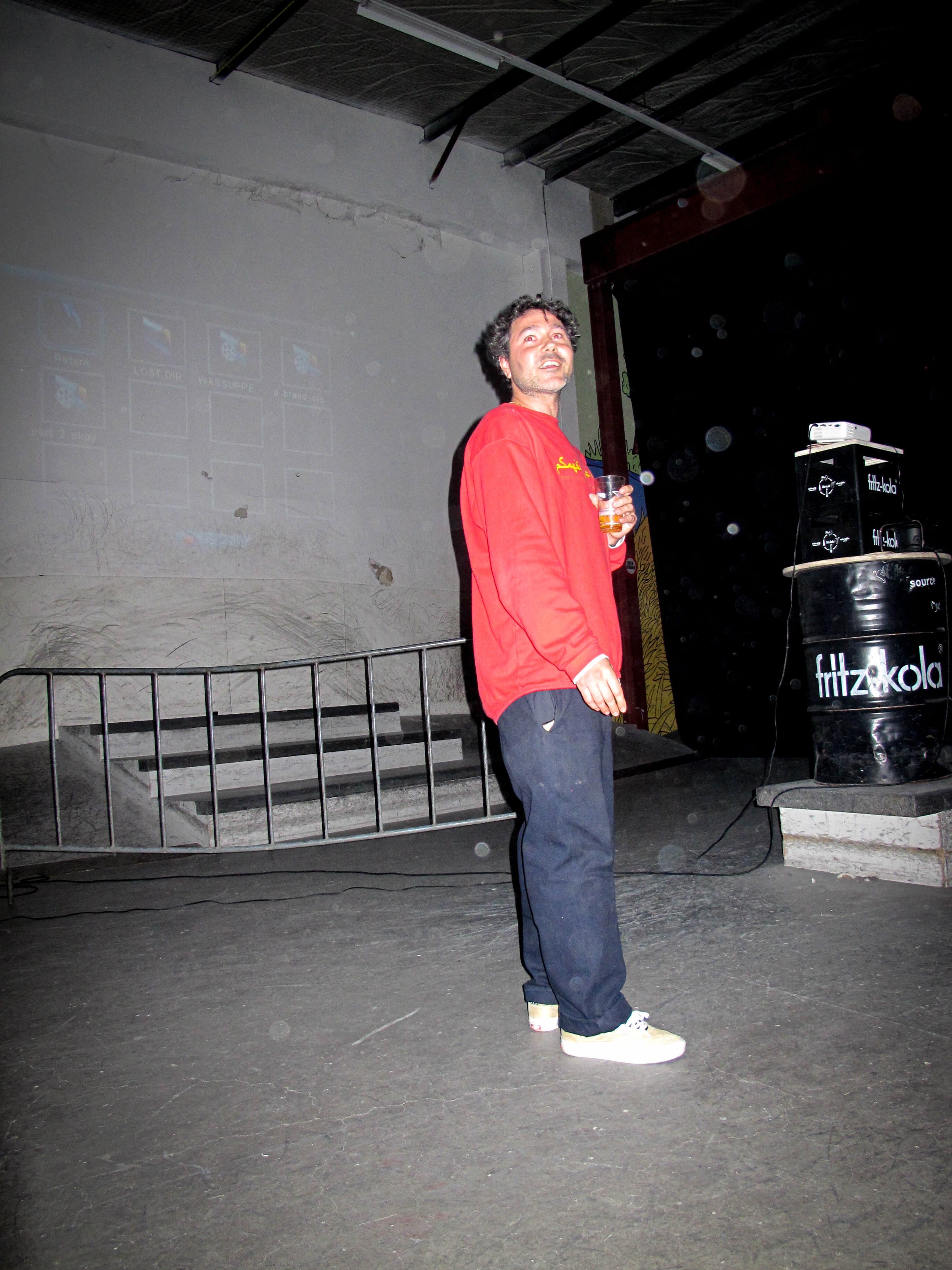 WASSSSSUPPPPPP
— the first thing we hear, and everyone goes crazy. Immediately, we get Tjerk Oosting 's opener. Oh, and a half-cab flip out of an inground trampoline. People are already whistling and cheering. 
The video was filled with heavy tricks and even crustier spots, with loads of street gaps, rails, stairs, ledges, and of course, any obstacle to get a long or technical manual trick in. We're getting spots from Amsterdam, Arnhem, and Haarlem. People in the crowd are yelling their friends' names when they come on screen, showing all the love they have for their homies. Though Valuta was promoting its new clothing collection, it still felt like this video was one for the people. 
There were so many crazy tricks in the video, making everyone in the crowd go even crazier. A tre flip over a huge flat gap, a backside flip up a five stair. Skaters are plucking bags of trash from the garbage and propping up manholes to use as a ramp, anything to skate a spot. Then there's Jip Koorevaar treating an entire roof as his personal skatepark. Mitchel "Mitta" Linger opens up with a compilation of slams and then does a boardslide over a pride bench obstacle. King van den Ban is doing bigspins into absolutely anything in front of him, and Tomas Oliver is letting us know he's got tre flips on lock. Skateboards are dropping into the canals, and they try to fish them out, does it get more Dutch than this? 
The entire thing was shot with a VX camera, the standard Valuta modus operandi by now, which gave us that crusty, classic, iconic look in combination with a backsplash of Dutch street spots. 
After the dreaded end, there was one last round of applause and cheering, and many were looking for the skaters to congratulate them on their part.
Thoughts from the ferry
After sticking around for one last drink, I took the last ferry back home while people enjoyed their beer talk after the premiere. Many were enthusing about the video with their friends, while others complained about how they had to work the next day. On the ride back, we were all talking about the fun night. We got to skate before the premiere, talked with lovely people, ate some great pizza, and experienced a first look at Valuta's new video.
I also asked my friend, who doesn't skate, what her favourite part of the night was. She said: "I loved how everyone was cheering for their friends". So, it doesn't take much to recognize the hard work and passion the Valuta team put into the "WASSUPPERS" video. And, whether it's by looking at the footage itself or by hearing others encourage them all night, it's clear that lots of love was spread that night.
Dylan & Tobias

On Fridays, we wear Valuta

Bonus knee slide