This article was originally published in Essay #12
Let me tell you about this past weekend. Today is a Thursday, and it snowed today. It didn't snow last week. This story starts on Friday morning, 3.30 am. No, it started a week before already. You see, I had to go on a family weekend, that thing where the family rents a holiday house for a weekend and you must get as drunk as you can, as fast as you can. It's the only way to survive. One of the members of this family is my girlfriends little brother. Not to make this even more confusing but the guy is not little at all, he's almost two meters tall and the strongest guy I know. If he was a skater he could probably focus a board with his hands.
Anyway, he was doing this wild train and camping trip with two friends in the south of Europe just before this particular weekend, and his stories made me think about skate trips. Sleeping on the floor, lying on the beach, eating food that can't be classified as Dutch, that sort of thing. I hadn't been on a skate trip for at least two years, you probably know why. The world was still sort of on fire but corona had flown past, so I got an idea: I have to go somewhere. And somehow, I had a little bit of money and a little bit of time as well. So, where can I go for €100? Berlin, London, Paris, I've seen them all. Then I looked on my Instagram and saw a name pop up: @hidstagram. Suddenly I remembered that this guy, Hidde Tuinte, lived in Milan and the choice was made. Luckily his schedule was sort of empty, so I hit him up, and he was happy to host me.
Hidde Tuinte - wallride nollie
I had only met Hidde in real life maybe twice before. One was during the Pop Vondel '18 contest, the other during a random encounter in Amsterdam. But since he makes the Crackers videos we already had a good start. Now, going on this trip I had little expectations. I had just finished Essay #11 so I was in need of a little holiday, and thus, I did no research into Milan whatsoever. I didn't even bring a notebook, so I had to send emails to myself when I thought of something and didn't want to forget about it. This was the trip that was sort of the end of a weird period for me, starting with a hospital visit and ending a few months later with a big house move, a new surrounding, suddenly skating almost every day in between semi-gnarly night or morning shifts at work, and in the end, this trip. It cleared my head and now I will clear my emails and see what I wrote to myself.
In Milan you drink beers that get more expensive during the day, or cocktails that are so heavy you only need two. Order a bottle of wine and ruin my view with your bald head.
There was a guy next to me on the plane, sandwiched in-between me at the aisle and the person at the window seat. He gave me some tips about Milano drinking culture, a little geographic lesson about the city and then kept sticking his head in front of the little window. I was leaving Amsterdam and all I could see was a big bald landing strip.
Italians only talk when they want to talk. And that is a lot. Fast
Sometimes, Italians only nodded to me. Other times, like security at the airport, they open their mouth, and a waterfall comes out. Although, this is probably about the guy next to me.
Same size as Amsterdam he said, before he blocked my view out of the tiny window. And then, he switched seats, gave me leg space. Save the legs for skating and expensive beers.
Again, about the guy next to me. Luckily, he saw a spot in a different aisle, so that gave me some more space for my legs which really helped my skating during this trip. Skateboarding is a sport!
Hardcore punk music does not sound good when the sound of an airplane, or flying heat box, powers over your Bluetooth headphones.
An easyJet plane is hot and noisy, so listening music sucks. The day I flew to Milan, I had to wake up at 3.30am to go to work until 10, then I went to Amsterdam to look at the new magazine, and then left for Schiphol to catch my flight. By the time I was in Hidde's apartment I had been awake for about 23 hours. So, hardcore punk music was a need to stay awake.
Grachtengordel neemt de vorm van een landingsplek aan
Man, so many thoughts about this guy and his head.
After three years of traveling by bike in the summer, flying to go skate somewhere is weird. I can't see where I go. I don't know anything. How fast do I go. When I skate I don't know how and what I do but I can sort of feel it. I fly and I feel nothing of the place I go and the place I am and the place I came from.
Deep stuff, I guess this is what the EasyJet heat does to you.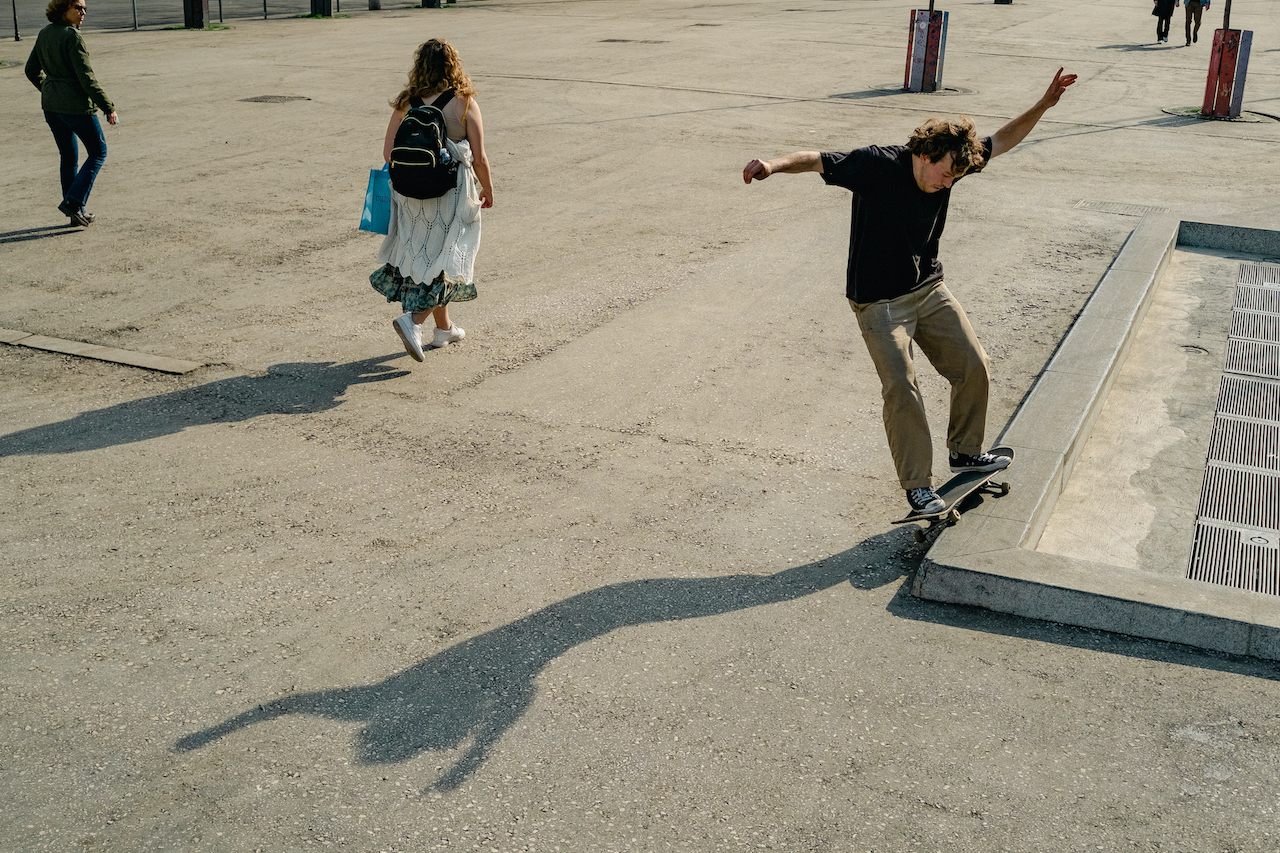 Where is Milano centrale, where is Jacopo, speak somebody English.
I arrived at the airport and got lost. The signs were outdated and didn't align to the route you were meant to take. The sign for the train sent me to the police station, but nobody was there. I went down and found the train station, didn't understand how in the world I could ever find the right train, had a bit of a sweat attack, until I found an Italian guy at a ticket machine. Despite his broken English he bought me a ticket to Milano Centrale, but before I could ask him where the tracks were, he walked away. I was still waiting for my ticket to print, faster, faster, stupid Italian, slow machine. The ticket came out and I'm telling you, never in my life did I sprint this hard and never in my life will I run down an escalator again. Luckily, I saw the guy that bought me a ticket hop into the train to Milano Centrale. Or at least, that direction.
Get the ticket, run away, still lost
Read above.
A square board for my spaghetti legs
I only brought trucks with me, there was no space to bring a complete skateboard unless I paid more; but Essay has no budget. Hidde had a board in his apartment that only needed grip tape, so we went to the skate shop and put some on. It was a nice, square shaped board which was perfect for this weekend. You see, I was a little tired from being awake 24 hours, my legs were dead, so the square shape gave me more space to land on with my spaghetti legs.
Are sloth intelligent
The things you see when looking at other people's phones in the subway.
Summertime in milab, Zomertijd, Uur vooruit
Summertime savings started.
People that lose things.
During the weekend I encountered multiple people that were having a public panic attack after they found out they had lost something. One girl lost her phone, discovered it on the subway and left the carriage trembling. You start to look around as well, try to find the thing that you have no connection with, and it sort of feels funny. Who loses their shit? And then suddenly, it happens to you and you're on the other end of the line. I guess, I've never lost important stuff and I have never had a bike get stolen in my life. What a talent!
Tramline becomes a line in the nose
One day we were going back to the apartment when a guy snorted three lines of white powder off of his phone. Fun times. Other than this, public transport inside the city is pretty easy. Except for the subway it's also quite easy to use the system without buying a ticket, so you can potentially have a cheap weekend. But, watch out for the bus ride to the airport. When five men, around thirty years old and wearing outdoor jackets with the same fanny pack step in, they're probably going to check for tickets. So carry at least 39 euros in cash with you at all times, or pay with a credit card. Just a little inside information, with possibly some own experience thrown in.
In hindsight, 5 euros for a beer that might as well have been transported from lowlands festival is a lot
One evening we were at a trendy, yet crusty, bar, where I bought Hidde and myself a beer using the non-existing Essay budget. The beer was weird and tasted like it had already been served at one of those big, Dutch, summer festivals were nobody listens to the music and stays in their tent all weekend, wishing they didn't piss over their tent the night before.
Get in no dog get out with dog
Some old guy stepped in the tram without a dog, and when he came out, he suddenly had this little, cute dog walking besides him.
One sniff and a bite and my ready-made sandwich is gone
Dogs: I was sitting in a park while Hidde was at work, enjoying one half of those triangular shaped, ready-made sandwiches. I was saving the other part for later, when suddenly, this big but cute dog stood next to me. I don't know how I did not see him coming, maybe I was getting a bit too zen and chillaxed, but I do know that when he saw the sandwich, he ate it faster than my girlfriend's little brother can eat a sandwich. Take that as a compliment, dog.
The wind is blowing in a strange way
One of Leo's many weird quotes. The first time I met him he had an Italian panic attack because he lost his keys, I told him to check his bike and there they were. The next day, we skated a bank spot, located sort of inside a train station so he had to park his bike outside. Somehow, he forgot to take his board off his bike and was walking boardless to the spot. I had to remind him we were skating and from then on, whenever he would place his bag somewhere he would tell me. I am the brain, Leo is the body.
Corporate group
Someone on the plane was casually strolling through excel sheets with multimillion budgets of this company. But somehow, their airplane department had the same budget as Essay and he too, had to fold himself inside the easyJet aisles.