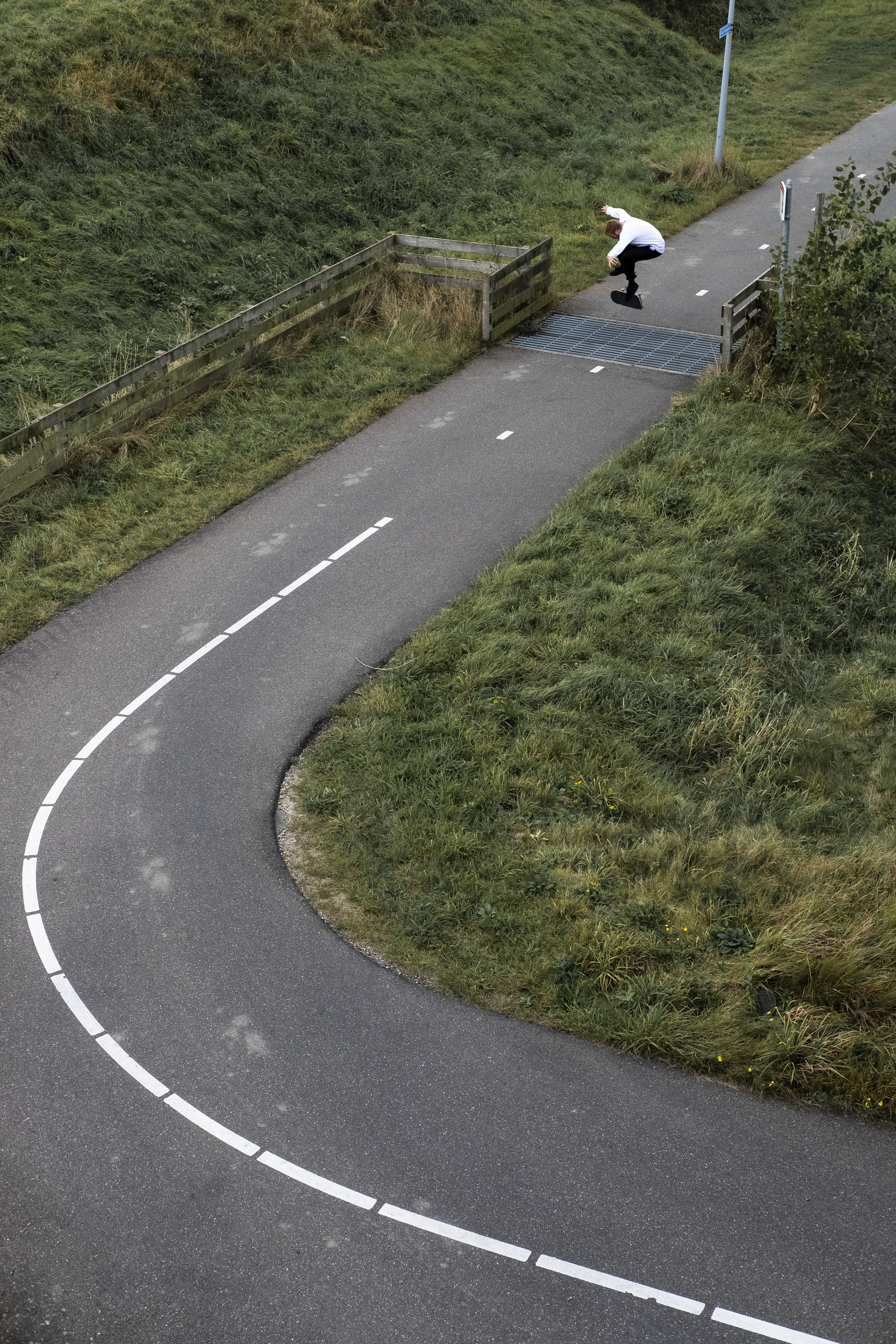 Today, after pushing about it for a while, I got the interview Huub did with Tobias. Now, I don't mean this to offend either of them, but I expected more. What I got back was an interview that could have been done by John and Paul, or Chris and Kate, or Steven and Laura. It's one of those interviews with questions that could be answered by any random skater in any random magazine. 
Not to hurt them even more, but this interview could have been in a Thrasher five years ago. Short and fast questions that don't need a lot of imagination of the readers, usually about a crew or city. A question of how long the skater is doing what he does, a question about a trip, classic shout-outs, you know the drill. If we, or I, want to find out why it is so hard to write about skateboarding, an interview like this won't help. Without completely milking out this thing, this obsession, this love, we must search for new and deeper forms of content in our life of rolling around and molesting curbs. Maybe we have to ask why we do it instead of how long. What are we doing? When are we doing it? If I skate to the spot, am I skating? If I watch tv with my partner and put up a new part, am I skating? Am I skateboarding when I listen to a playlist that is 100% tracks from skateboard videos?
Anyway, here is the interview. I have added some extra questions to which Tobias supplied extra answers. Good guy. - Sander Rodenhuis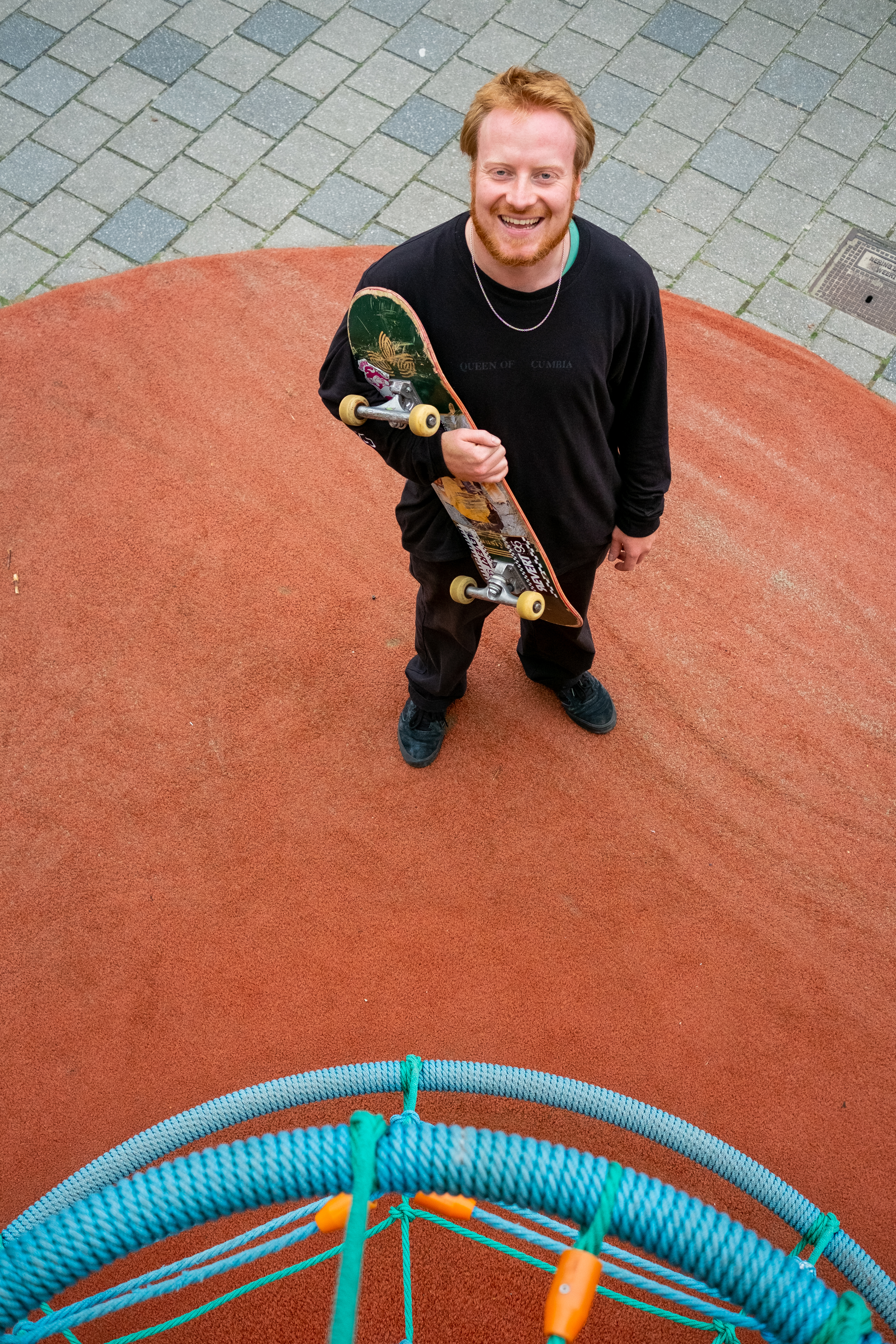 Huub 't Jong: If you think about Haarlem you probably think about the Grote Markt, Patronaat, Spaarne or the Sint Bavo but if you skate you probably start thinking about Landje, Zane, Revert or the Batskrew.
When you think about the latter, Tobias van Rooij is not a stranger. You may know him because of his talent to balance on two wheels, his red hair, or the temper he used to have back in the day. Tobias has been skating for Revert for about 14 years now and is currently working on a video, so this is a good moment to ask him some questions about the project.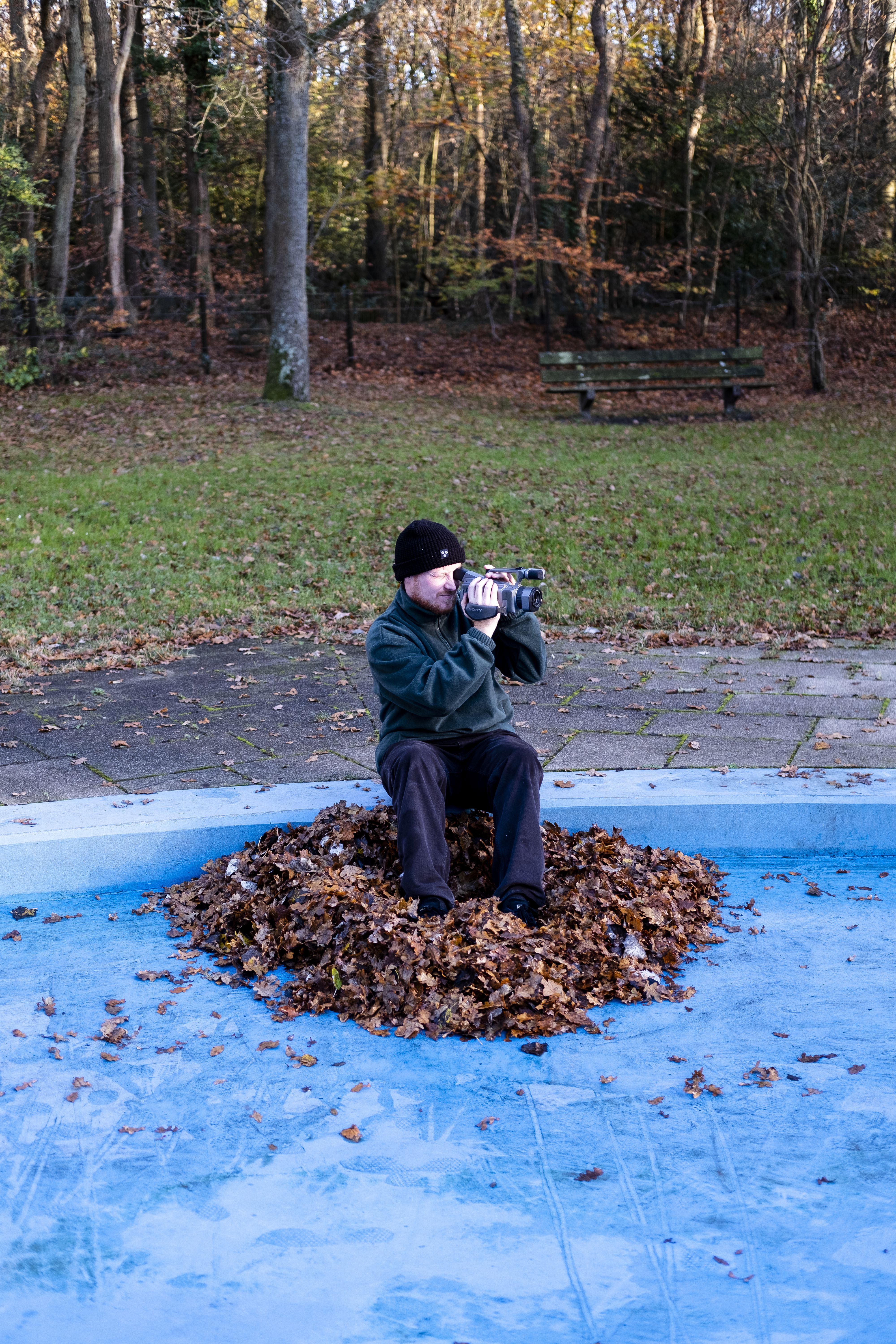 Hey Tobi, we heard you were making a video. How did you switch from being in front of the lens to being the guy holding the camera?
Tobias: Long ago I used to have two cameras, one of them got stolen at MACBA when I was 14 and the other one got run over by a car when I was 16. I think that killed all my filming aspirations. After that I got in contact with the older guys (Joost, Floor and the early Batskrew) that were already filming back then.
During those times we used to film each other but I wasn't really good at it. I used to be happy about that because it gave me more time to skate myself! But since the introduction of smartphones and Instagram I started to like filming a bit more, it gives a nice feeling when you film someone's trick nicely. Having a VX always sounded good, but I never made work of it.
But now there is a VX.
Last year in November we bought a VX with Jeroen, Tycho and Jim. We wanted to film each other with the idea of making a Revert video, with everybody of the Revert team involved. It wasn't the original idea that I would be the main guy, but I did take responsibility for the camera and invested a bunch: fisheye, tapes, light etc. I noticed I liked to film in a good way and meeting up with mates, skating and getting clips. This year I also started skating a lot with Tjerk Oosting and skaters from other cities than just Haarlem. So, the video is becoming more than just a Revert video. A lot of the Revert guys are too busy to get clips as well, sadly.
The story of how we got the VX is pretty funny. Maarten Rijs was someone we used to film a lot with. He didn't skate anymore and didn't use the camera anymore, so when a move of house came the camera ended up in a container. A passerby found the camera in this container, and because it had a Revert sticker on it took it to the store. Somebody claimed it to start filming with it, to end up not doing anything with it. Then we bought the camera back, and that's how got it. This is the camera that used to film for video's like Bats Krew teevee. Now the camera has a second, maybe even fourth life!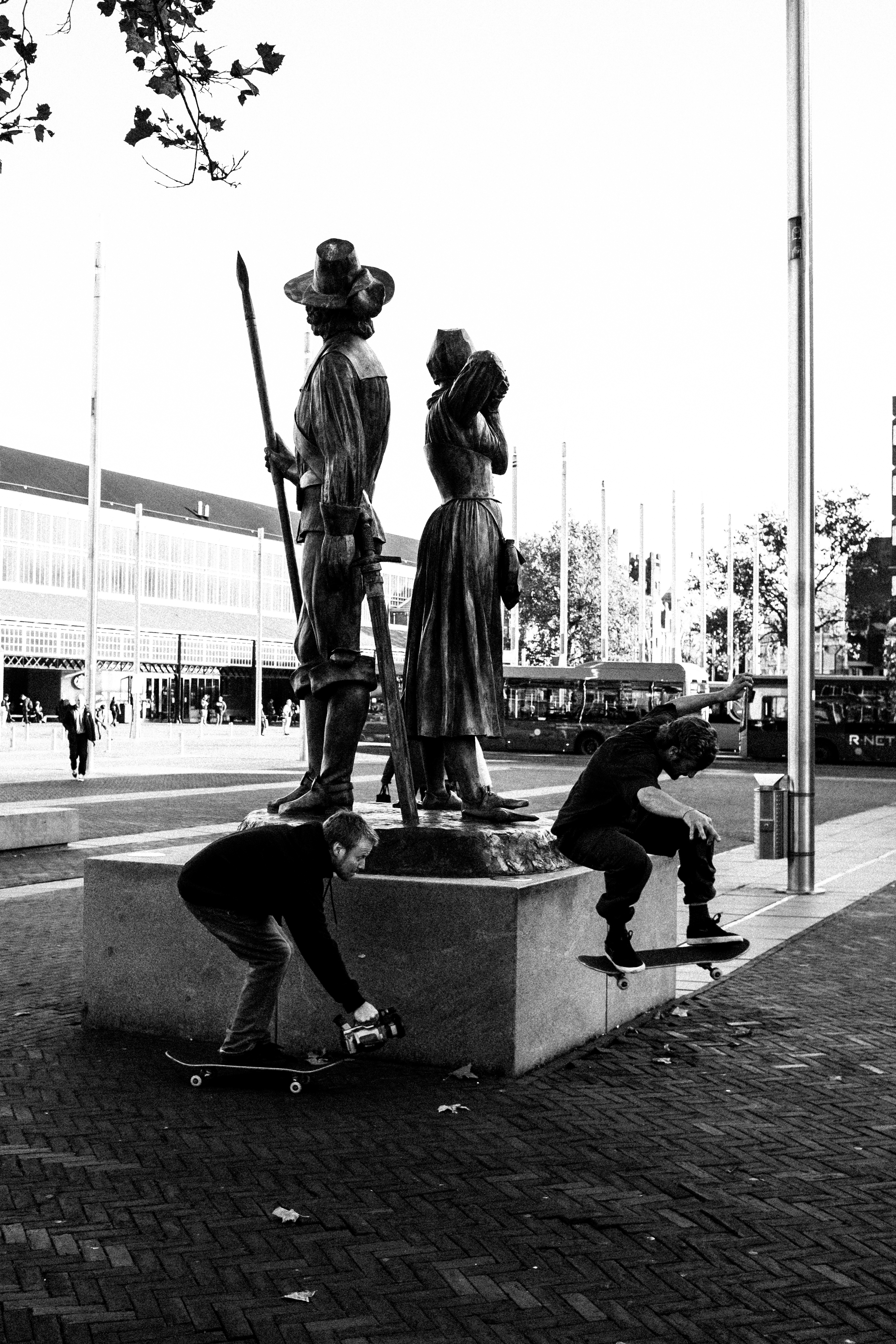 Sander: You're taking the opposite route from most skate media. Since Instagram is around there is an overload of footage, skaters and filmers, and everything is released online instantly. A VX slows the process down and is the opposite of the fast culture of smartphones. Did you pick a VX on purpose, knowing the complications these things can bring? Loading tapes, glitches, it all takes a while longer.
We didn't pick it because of the complications, no. It drives me crazy, I just sent it away for a repair too. It's purely for the quality of the image, you always know it when you see it, I like to watch VX edits the most. 
It involves a lot more than just filming, think about setting it up, searching for tapes, rewinding on the spot, charging batteries, you name it. It's still a camera from 1995, pretty old.
Where do you go to film and who joins the session?
Mostly Haarlem and Amsterdam, not too far from my house. But we also go to Arnhem occasionally (Thanks Yani for the good care!), the Hague, last weekend to Groningen and other random towns across the country. 
Right now, I mostly have footage from Tycho Henskes, Jim Wellens, Allard, Tjerk and myself. There's also a lot of young skaters from Haarlem in it, and I want footage with as many mates as possible, not restricted to Haarlem. It is a challenge to find spots in the region and to use them in the video, so you don't have just the well-known spots in it. It's even harder to properly film those spots and sometimes the spot is too hard to skate, but that's how it will always be.
Sander: What are the hardest spots for you to skate and what are the hardest spots to film? Do you have a preference for filming tricks? I can imagine you may find it easier to film a nosewheelie by Tjerk than filming a hardflip by Jason Lijnzaat. You don't look like a hardflip guy.
Haha, I used to do hardflips back in the day! But nowadays not so much no, just like stairs and rails, I've been avoiding those for years. I dream about it sometimes and I would like to do it, but my body gives me some sort of error. I don't have the balls for it anymore. Other than that, spots with a crusty surface are hard to skate, not really for an ollie or kickflip but don't ask me to do anything fakie. The curbs in front of the Haarlem station are hard because of the pavement, for example. I can be pretty picky when it comes to that. Give me a nice manual pad or a good bank.
I have to admit I like filming at spots where I can't do anything myself the most. I can see a spot and think about Tycho or Jim, who might be able to do something sick there. That gives me extra hype to film. Other than that, I think it's cool to film stairs or rails, that gives me some sort of adrenaline rush as well! 
Recently I filmed bowl for the first time too, which is completely different, it's fun and pretty chill because you can zoom in and out, and follow along while standing in the same spot. The hardest spots to film are the rawer ones and the unknown spots, then the goal of filming the spot is to show everyone how tough the spot is to skate.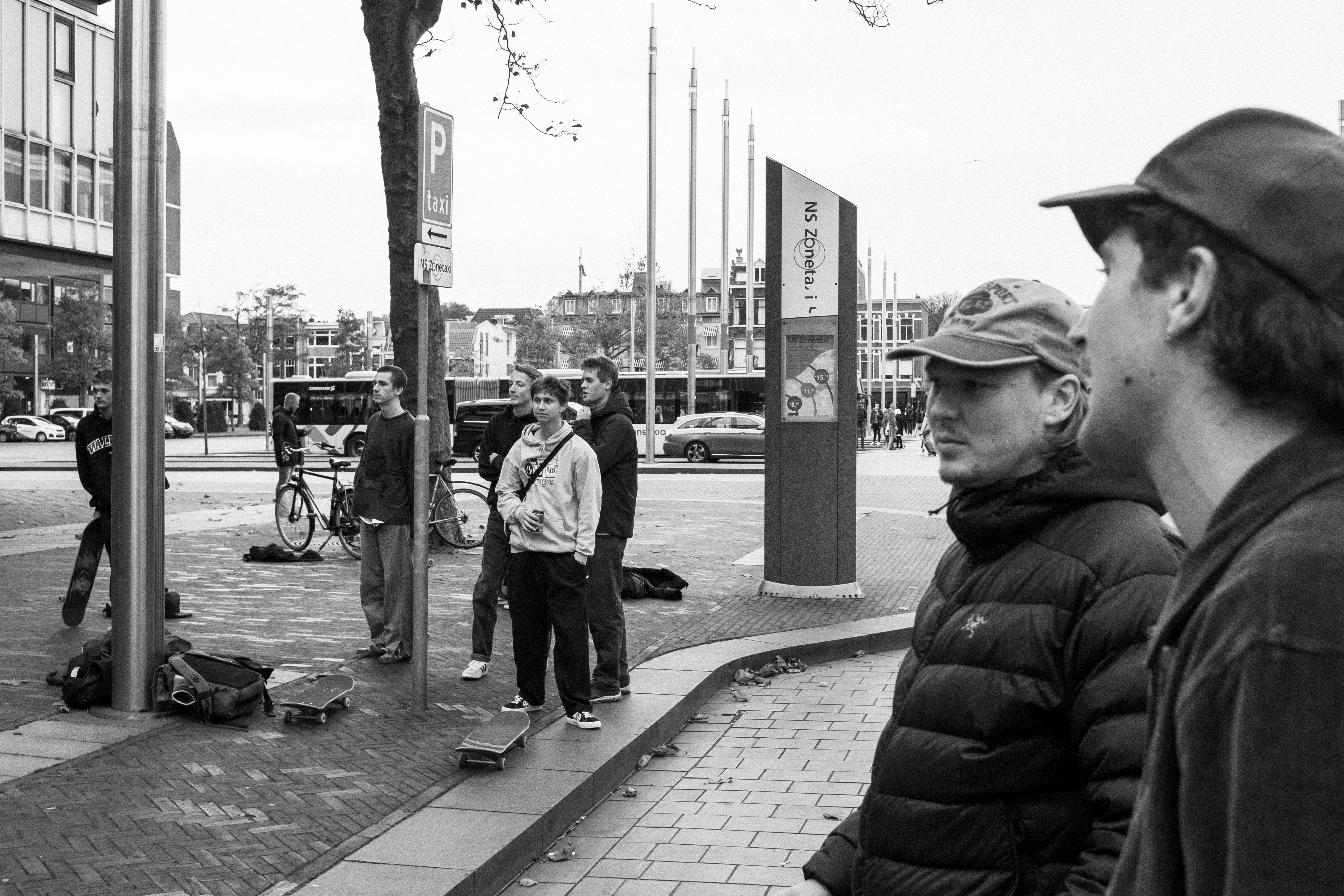 What's the scene like in Haarlem these days?
It's alive and kicking with a lot of new generations. Before, when you skated you used to know everyone around but now there's a lot of new kids and different crews. It's nice that there is an indoor park, next to the two outdoor parks. In terms of spots, it's still a struggle but in terms of the scene it's blooming. I do have to say that the new generations skate less in the streets.
Since I have the camera, I visit Zane or Landje less than before, because when we go skate we make it a mission. Skating street is still sicker and you always get into adventures: enforcement, drunk idiots, people that are stoked and people that are not so stoked, it's all still gold. 
I do miss the Batskrew era where we would go on a mission every day, including beers and partying. There's only a couple left from the guys that I started skating with and enjoyed those times with, everyone gets a little older…
Sander: Do you try to get the younger skaters onto the streets? Or do you think they lost the need to skate street now they see so much of their daily skate clips filmed in a park?
I certainly try to get the younger guys onto the streets, and if you hype them up with the VX to get footage they all get motivated to give it a try!
In Haarlem the division between skatepark/street spots is really weird, we're spoiled with skateparks but there's a shortage of good spots. Maybe the kids are slightly doomed to parks because of this, but I see street clips of almost everyone once in a while. Back in the day when I still had time to skate every day it was usually in a park, mostly after school I would go to Zane or Landje and then skate street in the weekend.
Luckily a big part of the media on Instagram is still street, although it depends on who you give a follow.
What does irritate me is the constant stream of short but still sick parts that arrive every day, and the small flow of full length videos with those classic, sick premieres. You used to live up to a video like that, I can remember how stoked everybody was for the Fully Flared premiere. My first one was the DC Video, that was fucking epic and I still watch it from time to time. Yeah Right or This is Skateboarding are still regulars for me too, or the even older Girl and Chocolate videos. I'll come back to my sadness about the kids, for everyone that hasn't seen those videos yet: do it now!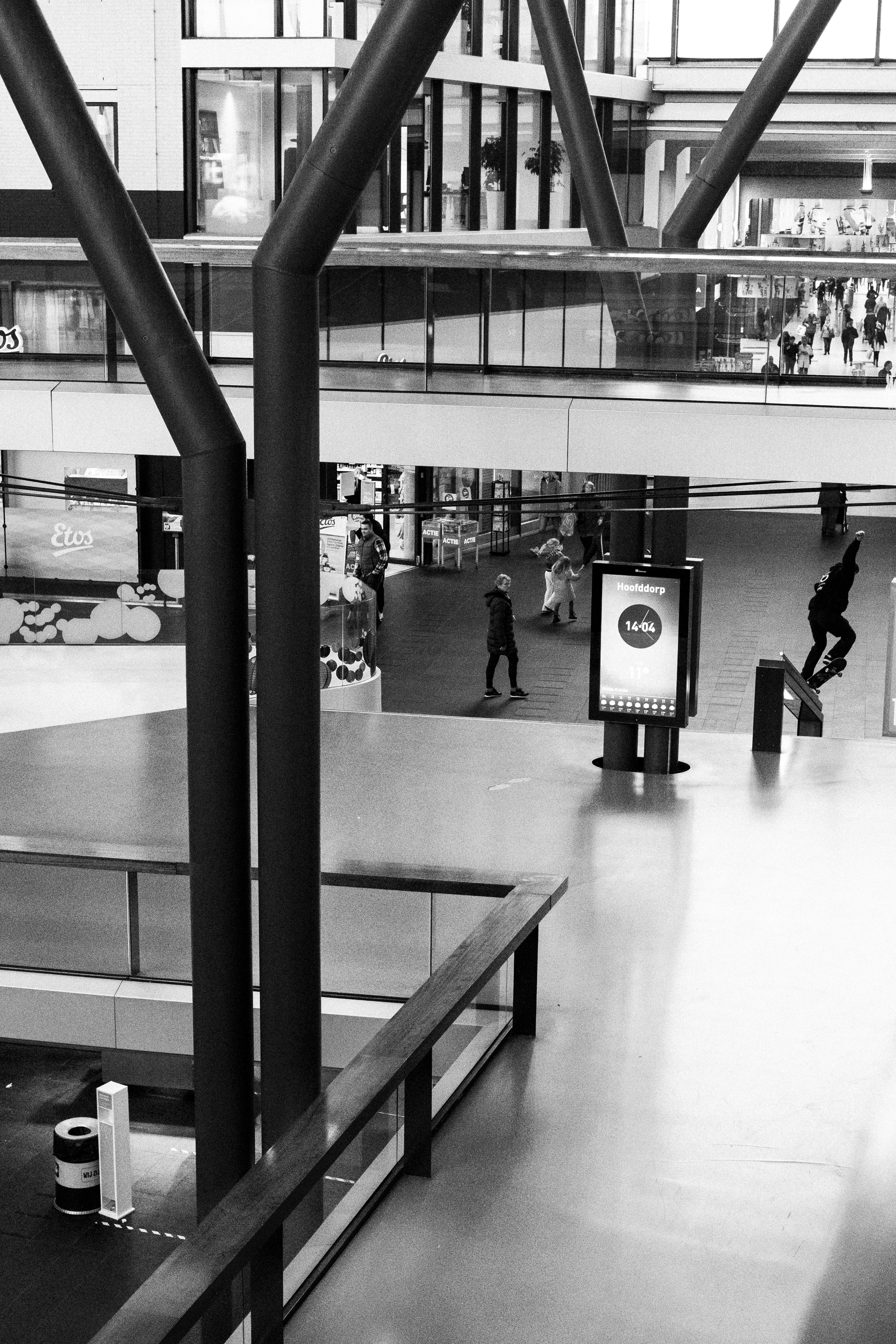 What was the best skate trip with the Batskrew?
So schmeckt Berlin, we were there with 35 guys, skating a lot and partying even better. That was the best one for me. Shoutout to the SunFlower hostel, even though we're not welcome anymore.
Did you start skating more because of corona?
Yes, a lot more. Because I was off work for a year and a half I skated maybe three times more than before. I used to work in the nightlife so I was usually too hungover or tired to skate the next day.
Sander: Physical skating is one thing, but were you still busy with skateboarding? Watching videos, looking at the weather forecast obsessively, exploring spots on google maps?
Since I started skating I've been obsessed with everything. Back in the day every weekend started at Tycho's house, watching tapes and then go out to skate. Nowadays mostly social media but still the classic skate videos I mentioned earlier.
I always check the weather forecast, and if it looks to be good I always want to skate. Unless it's real hot in the summer, that's when I prefer to go swimming. I always skate more in wintertime then during the summer, or at least it feels like that.
Searching for spots on google maps is more something for Friso Blankevoort of Rapid Wax, he's always got great updates. Other than that, I have such a big spotlist to go to that I would be happy if I get to finish all of it. But still there is no better feeling than finding a brand-new spot somewhere. I can still remember vividly how ten years ago the Raaks was built, and suddenly there was a great manny and curb to skate. Sadly, it's not so good anymore.
Are you patient when filming?
I've filmed Tjerk Oosting for two or three hours straight a few times, and that's not so bad because you focus on getting the clip right, and when the person lands the trick you can be just as happy as the skater is himself.
I started looking at skate videos differently too. Usually, the filmer is underappreciated so now I feel like I have to give a shoutout to Niels Vogel, Joost van der Hoeven, Floor van het Nederend, Maikie Passchier, Maarten Rijs and Tim van Essen for all the patience over the years. I think I never let you know how grateful I am for the effort!
What do you do when you're not skating?
When I don't skate I watch and play a lot of football, hang around with the homies or my girlfriend, I like to draw and enjoy going into nature. 
Right now I work as activity supervisor in a care home with mostly MS-patients, this is beautiful and fun work. I've got my own scrabble club, and I cook a lot with the people living there. Other than that I work in a pub one night a week, which I used to do fulltime before. It's fun for a night but I'm happy I'm not completely in the rut of the nightlife anymore. This is great for my hobbies and health! You get a lot more done.
Sander: Is there anything from skating you bring to the clients in the care home? Maybe you have extra patience because of endlessly trying a trick or you can just hang around doing nothin, those things.
Hard question, because of skating you get in touch with a lot of people, although not always in a positive way. But I do think it taught me how to make contact easier. You meet a lot of people, not always skaters. I think this skill of getting in contact with people helps me in this job for sure.
I gave a presentation to the clients one time, in which I told about the history of skateboarding, showed some videos, and demonstrated a few tricks. They liked it and had a lot of questions. We mostly have MS-patients or people with non-congenital brain damage, they're all in an electric wheelchair and are at age. Their worldview is pretty small in there, so they barely knew anything about skateboarding.
Is Tobi chilla more chill now?
Haha, yes, I get angry less quickly and never focus any boards anymore. But that's also because I don't set the bar as high as I used to.
When you see a spot on a photo or video you start thinking about what you want to do there. Usually, you have to disappoint yourself because you find out your fantasy was too wild, and you have to be happy with a simpler trick. I keep this in mind now, spots are always harder than you think.
But I must admit I can still get angry when I have a bad day, it's pretty confronting that ten years ago I could do stuff that don't really work anymore now! However, I still learn something new occasionally.
Sander: I got to experience a grumpy Tobias myself, when your dream spot was wet and your knee hurt. Is there a difference between lowering the bar and a low impact style? As in, are you not doing hard things anymore or are you just switching to a low impact style, focused on tricks lower to the ground?
Haha, yes that sucked. There is a difference, for sure. I still raise the bar but mostly with low impact tricks. There are multiple manual tricks I want to do that could take hours and thus are very hard for me. But a real hammer is not on the horizon anymore. I still like to skate flat gaps and banks.
Skating or Ajax?
Skating, Ajax wins anyway!
More shoutouts?
Jeroen from Revert, thanks for the support through the years, all homies, Valutabrand, Sander for the care in Groningen, VXdoc and thanks to corona for giving me a hint of pension and the empty streets!