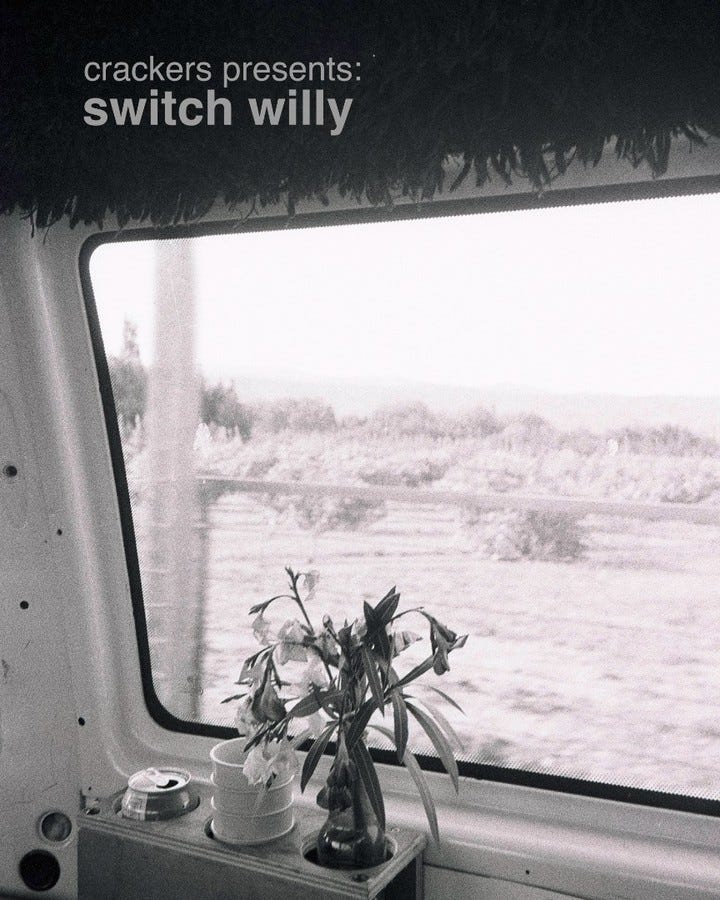 Yesterday I wrote a reasonably long instagram caption to go with clips from a new video, "switch willy". It's a video by Hidde Tuinte, a skater from Hoorn I have known for a few years now and somehow only met in person twice. Back when Essay was still trying to be the go-to place for all new video's and other daily content, I hosted the premier of Crackers 3, the third full video by Hidde and his crackers crew.
On Sunday, or second Christmas day around here, Hidde sent me a link to already watch the video. It came with a warning beforehand: apparently they were a bit lazy this time and thus had no promotional content for the video. All I had seen before the link came was a minimal poster or flyer with no indication of what and how. Was it a new full length? That would be unexpected as Hidde moved to Rome some time ago. But on the other hand, the crackers crew and possibly Amsterdam in general has been the most productive scene lately. So a full length was still among my hopes.
Alright, it's second Christmas day, what do you do? It would be inhuman to just power through to the next family meeting. One could take a walk, which later on the day happened despite temperatures below freezing, one could walk around in search of an oliebollenkraam still serving on this holiday, which was found after three hours, or one could click on a link sent through the famous DM. My girlfriend is more into holiday meetings and didn't really understand why I needed a "moment for myself", how long would this moment be? I didn't know either, nobody told me whether I was going to watch a full length video or just a standard YouTube clip.
The link revealed neither. The link revealed Hidde wearing shorts and sandals, sitting down, and jamming a bass guitar. There was another guitar player later identified as Lucas Atteveld, we could hear the sounds of their jamming together, some kind of percussion joined and never left for another six minutes. All we can see of the percussionist is a nodding head, I wasn't even sure if there really was someone behind the drumkit. Then the skating starts, with Jim Vroling as both opener and reminder of this guy being one of the best. Do you have to land a trick at the end of a line when you're wearing a purple shirt, kaki cargo's and adidas superstar shoes? I don't think so, we're off to a good start.
The instrumentals go on steadily, Jim Klok enters the screen still sporting the same style we could enjoy in "Process Analysis", the full length Essay video. More similarities with that video: Bradley. Once again, he is introduced without last name which gives Bradley some sort of Ronaldo vibe. He is the Bradley of Amsterdam.
Around two and a half minutes the music gets a bit more intense, just in time for Chima Chibueze to come in. I can't help but wonder if anyone ever called him CC, one of the most underrated abbreviations out there. Carbon copy, cycle club, coffee company, whatever. It's one of those names that must go with tricks that make you watch a video again. Switch front blunt in a line before he's introduced, followed by another two-trick line at the Eye spot. It's followed by a manual at the Schouwburg of Amsterdam. The manual has the same quality as the marble bank he incorporates in the trick: they're absurdly smooth and shiny but it's the spot where every possible trick comes with an if. "I could do this or that if only…"
We're five minutes into the video when the Amsterdam section ends, and we're being teleported into coastal France. We can see the remnants of a seaside camping spot before crusty seaside spots are skated. During the last minute and a half, we see French spots skated like they're in the middle of Amsterdam. And before you know it, the "switch willy" band come back into the screen. It still takes a second watch to find the drummer, tucked away in the corner of the room. The drummer can be the embodiment of the whole crackers crew: they're out there in the corners of well-known Amsterdam spots, you can hear them, you know it's quality, but we never know when we're going to see them pop up.
https://www.youtube.com/watch?v=HNJZ5qD8PdQ