New Wave Skate "Back to Back - Mixed Sessions" — safe spaces based on togetherness at the skatepark
Skateboarding has always been a sort of safe haven for those who practice it. Skaters of all identities, all tied by their passion, find the skatepark as a comfortable getaway and spend their entire days there. Those who feel like they belong to the skateboarding community have a connection to each other, which almost seems indescribable to those who don't skate. If you know, you know, I guess? But, despite the fact that skateboarding is widely seen as an accepting community, many still believe that more efforts can be done to provide a safe space for marginalized communities at the skatepark. And, while we hold on to this idea of skateboarding as accepting and open, skaters should keep trying to fill in the gaps between its communities.
And they are! As skateboarding continues to evolve in the Netherlands, there are more initiatives that give marginalized groups their own place in skateboarding. Not only that, but these initiatives also try to bridge these communities closer to the more dominant skateboarding scene.
Of course, this isn't to say that the dominant skate scene is an exclusive thing, but just that there may be a lack of connection between the wider scene and beginners, women, and the queer community.
Words by Lea Shamaa (@leacandle), photos by Ana-Maria Radu (@fxrnvxh)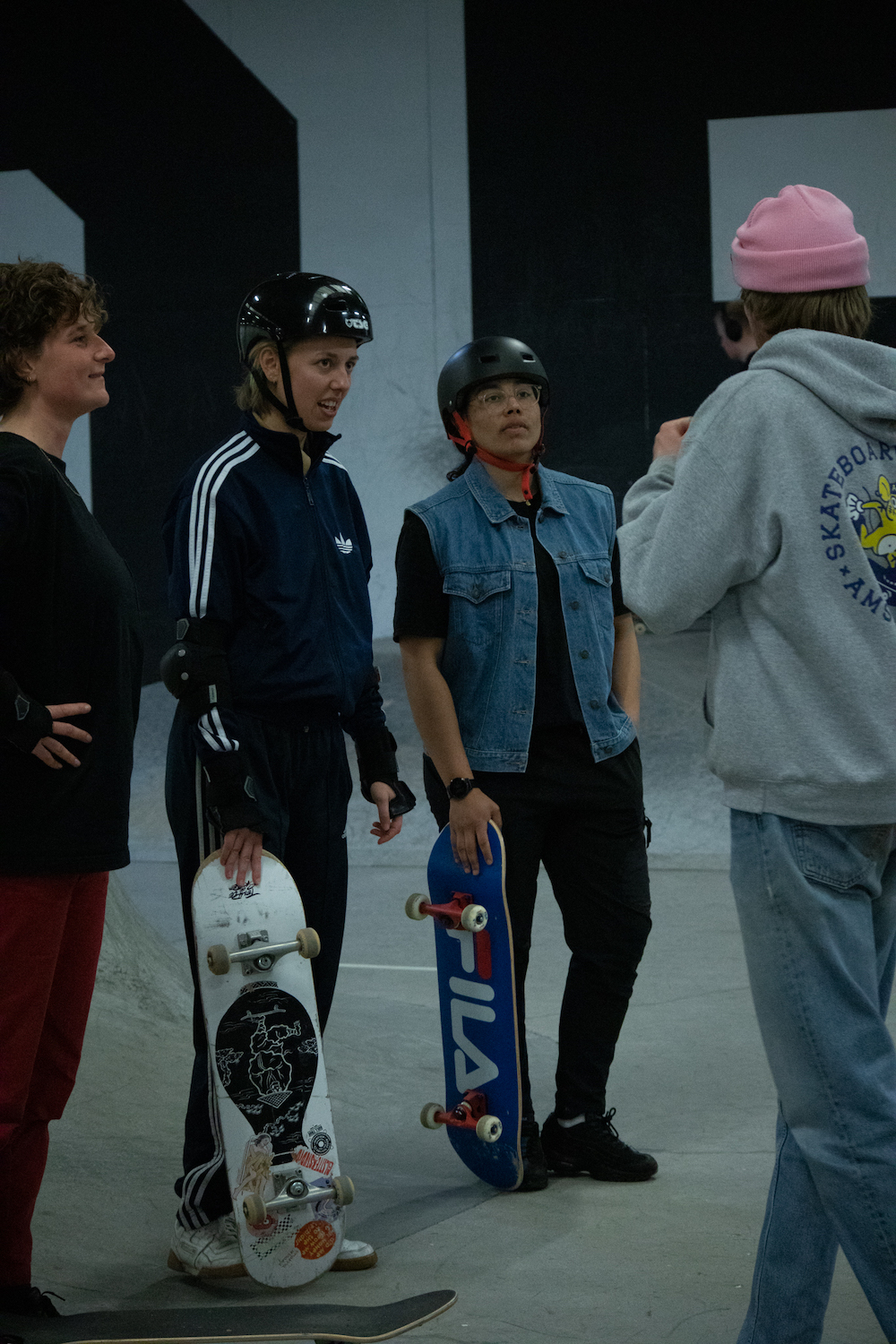 New Wave Skate — an inclusive skateboarding initiative
The Dutch skateboarding scene is already seeing opportunities that improve accessibility for queer and womxn skaters. New community-based skateparks in Amsterdam and collectives like Girls Skate the Hague, Rollende Minas, Alles Op Rolletjes and New Wave Skate all work towards ensuring an inclusive and safe space for communities that don't necessarily fit in the typical skater groups. The New Wave Skate initiative is built on community values that reflect diversity, inclusion and safety for queers and womxn at the skatepark. The initiative began in 2019, in Rotterdam, with the first skate sessions starting up in Amsterdam a few weeks after that. The Women Skate the World website explains that NWS "expanded with collaborations in Nijmegen, Eindhoven and Breda, among others." in the following years.
Organized by womxn and queers themselves, the initiative offers alternative spaces in skateboarding for marginalized subcultures in the skateboarding scene. On a bi-weekly basis, NWS offers "Girl & Queer Skate Sessions" at the indoor skatepark in Amsterdam, Skatepark Noord. These nights accommodate skaters of all levels who identify with the womxn and queer sub-community. These skate nights are hosted by local teams of volunteers, with the main intention to boost positive experiences at the skatepark and provide these skaters with feelings of safety and acceptance.
So, while it's typical for most skaters to seek comfort at the skatepark, marginalized skaters may actively avoid going there because they simply can't find the same comfort and assurance in those spaces. This isn't because people are actively pushing them away, but just due to feelings of the cultural divide and lack of interconnections between the dominant and queer subcultures.
As a result, NWS created a night of safe energy for all skaters, beginners and advanced, by combining a normal skate night with community feelings. Skaters who have never shared the park together were able to interact on the same level-playing field, and they called it: Back-to-Back Mixed Sessions.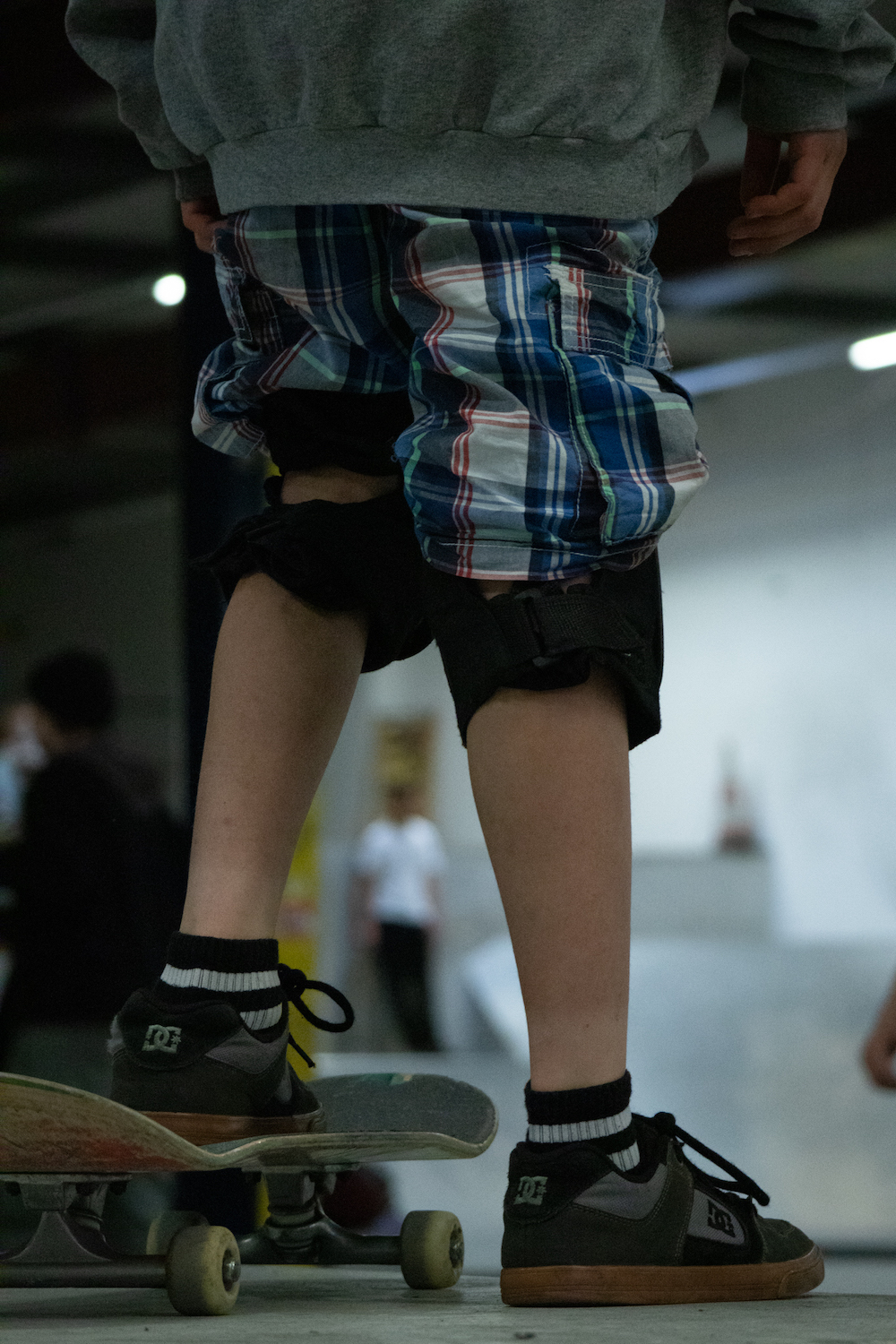 MIXED SESSIONS — bridging the gap between skate communities
The Back-to-Back Mixed Sessions initiative by NWS offers an inclusive skateboarding environment at the skatepark. The event is organized independently by volunteers at NWS and tries to tie all the different skaters together. Taking place on April 22, the event allowed communities that don't often encounter each other to connect, communicate, and, of course, land tricks back-to-back in a safe space.
The NWS events are centered around skateboarding diversity but they also integrate other forms of entertainment. Think tooth gem stations, store pop-ups, and DJs. These simple yet convivial things make it easier to be sociable and can help boost the cultural connections between people. Since the event called for queers and women of all levels, many beginners were stepping into the skatepark for the first time, so having all these fun and interactive stands on the side made it easier to break the general ice.
A conversation with Anne – one of the organizers of the Mixed Session event
This mini-interview was made at the Olympiaplein Skatepark in Amsterdam during the second BYOBSS (Bring Your Own Beers Skate session) event of Summer 2023. So while reading this interview, imagine the sound of clacking boards and kids smashing themselves on the ground.
Lea: New Wave Skate mainly specialises in queer and womxn skateboarding events, what's the idea behind having a mixed sessions night?
Anne: Well, Nanja and Selma are the founders of Women Skate the World and New Wave Skate. And we were all thinking it would be nice to further the feelings of inclusivity in this community. I just talked about it with Nanja during a workshop I was participating in where they taught us how to plan and make projects happen. Esterre and I are volunteers at New Wave, but Katja, who works for them, was down to organise it with us. The three of us were like fuck it, let's do it. Our thought behind it was that "there's definitely a need for safe spaces within the broader community". In Noord, you have the Girls and Queer events, but we thought it would be nice to offer a space where different communities can interact and where girls and queers can feel safe within the bigger skateboarding community.
Lea: like a general normal vibe at a skatepark?
Anne: Yeah, because that's the big end goal right?
Lea: Yeah, definitely! Did you also receive any reactions from those who showed up to the event? What were they like?
Anne: Yeah, Jitse, one of my colleagues! He was very hyped about it and the contests we had.
Lea: I feel like contests are a good way to have both communities engage together. There were people also from both groups there.
Anne: Yeah we wanted to have a contest but we also wanted to make sure there were enough people to participate. Maybe not if it was the first time for you on a board but we also wanted to give beginners the chance to participate since all levels were welcome at the event. That's why we didn't have a "Best Trick" section in the contest. But, I honestly got to say that people were sincere and had positive reactions when coming up to me. Some people also didn't expect many others to come, so they were happy to see many skaters from both communities of the event.
Lea: Of course, it takes more than an event to guarantee a safe space for queers and women at any skatepark. What else do you think can be done about that?
Anne: I know that Nanja and Selma were kind of seeing our project as a trial for these kinds of events. They already have Girl & Queer nights at Skatepark Noord every two weeks on Thursday. They would like to turn them into mixed skate nights, but as a low-key mixed session that happens every other Thursday. I'm not sure if they're gonna do it but that's what they told me when we started this. The first mixed session was like a trial because like, how would it look? Would people actually come and enjoy it too?
Lea: Yeah, and it was pretty good too. So, will there be another mixed sessions event soon?
Anne: I think so, for sure. I remember, I think it was Selma, who asked in our group chat "So, when's the next session happening?" But I need a little break, hahaha. There was a lot of organization that was put into it.
Lea: Yeah cause there was also a tooth gem station, a live DJ and a vintage clothing sale too. So I imagine it was a lot to plan. I think this helped people have fun instead of being pressured to only skate. But as one of the organizers, what are some words you'd like to share about your experience as part of the first Mixed Sessions event?
Anne: We had so many people who helped to make this event happen. I would say that the people who organized it were Esterre, Katja and me. Nanja and Selma are the founders and gave their okay for big decisions and managed to secure a budget for us. Dirk and Mickey gave some skateboarding workshops with beginner skaters. Sam and Kiran (@aquariumamsterdamx) were selling a sick collection of clothes, and Adela (@angel.tooth_) was glamming everybody with the tooth gems, and you're writing an article for it. All these people we approached helped out further.
Lea: It's so nice because that gives off a very communal feeling already.
Anne: I think in the end we involved a lot of people. But also, in reference to what more can be done. I feel like we (NWS) show a lot of initiative and there will be more initiative done with more mixed nights. What I want to see is initiative from the dominant male community. Now, it feels like we want to integrate and we're trying but we need to see some active welcoming from their side.
Lea: Hahaha yeah, like a nice welcome mat from the doors of dominant skateboarding groups.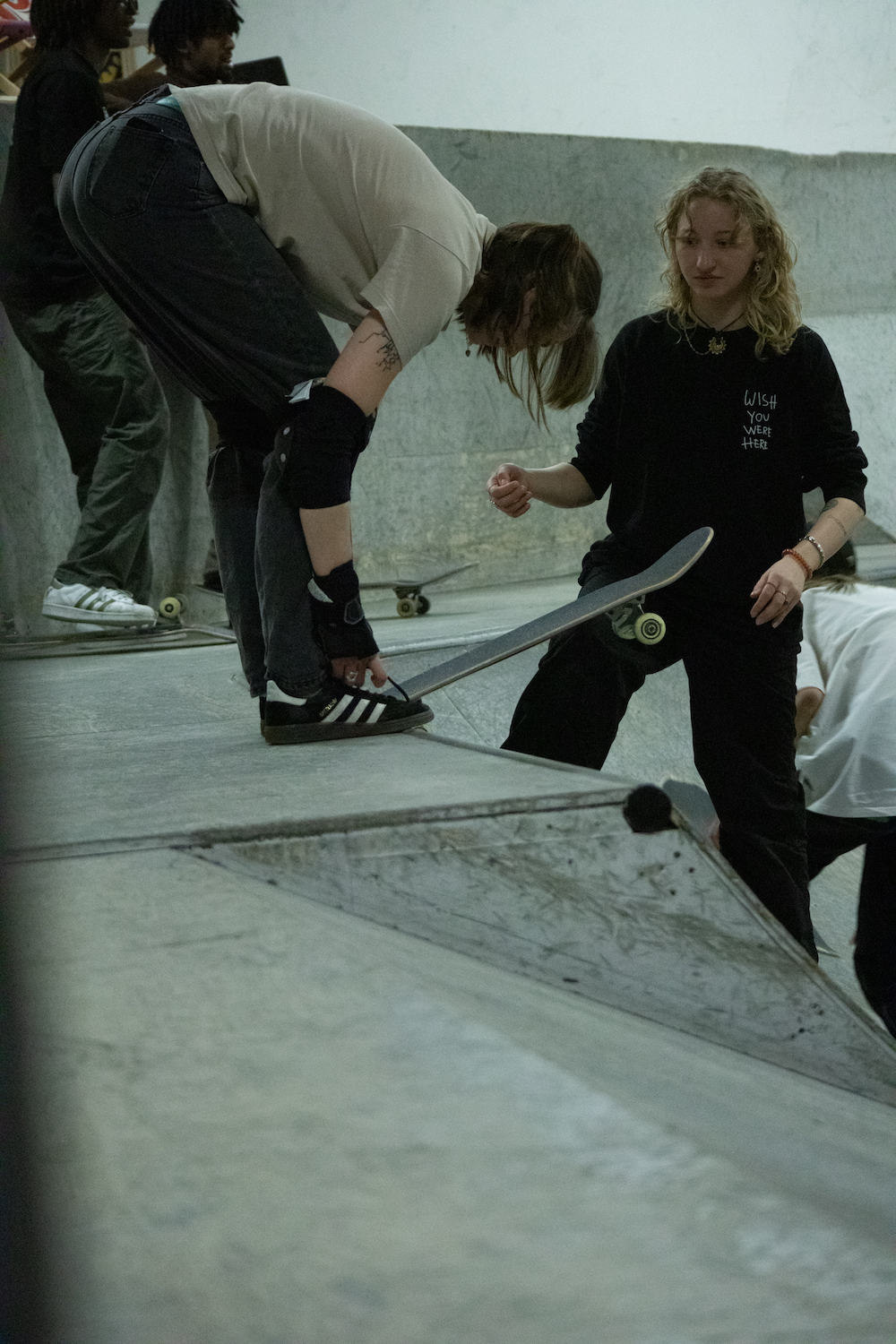 Anne: Yeah, exactly! I think the door is open but it would be nice if someone stood there and told you to come in. This is something we can't do but has to come from the bigger community we're not part of yet. Like, diversity is being invited to the party; inclusion is being asked to dance.
Lea: hahah, love that. Before we end this, anything more to add?
Anne: I guess I just think skating is already such a small subgroup of people that also face prejudice from those who don't skate. But I think it's counter-productive to even further divide that small group. What I'd like to see is more openness, but I feel like it's already more happening.
Yeah, I just want people to stay open to new or different people. But it's also getting there already.