We're proud to present Public Skateshop Arnhem's latest video, Pheleppe! Filmed and edited by Kadir Küçük and Yannick Wijgman, this one sees the Public crew take on Velp, a village close to Arnhem. Scroll down for an interview with some of the main stars, and a few photos by Yannick.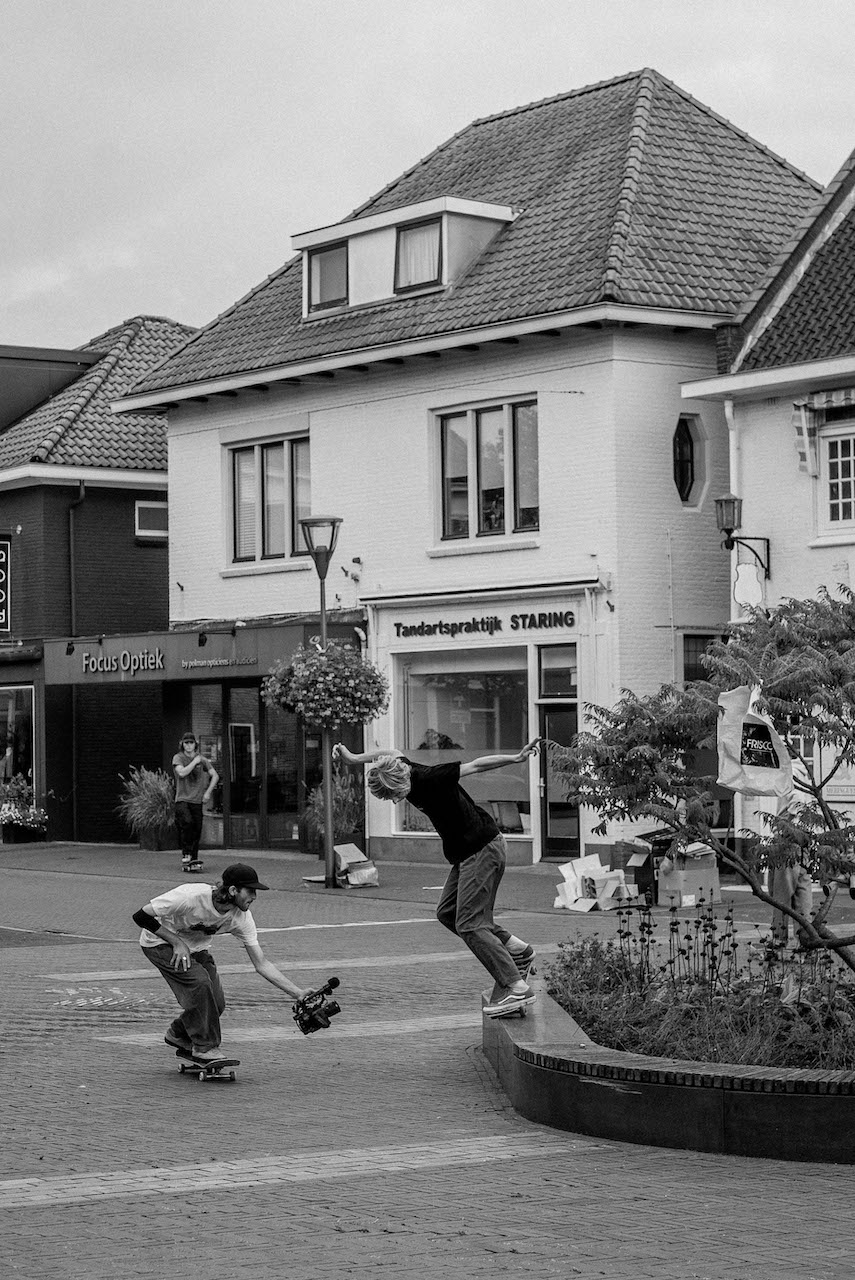 You're all from Velp, right?
Boris van den Brink: Yes, born and raised!
Emile de Vos: Yeeee 1000 born and raised!
Finn van Elk: Yes indeed, born and raised!
Yannick Wijgman: It's like they studied this… bunch of Velpenezen.
Where does the name Pheleppe come from? Did somebody open the Wikipedia page for Velp to start yelling it out?
Boris: I think Wes [Cremer] got it from Wikipedia, haha!
Emile: No, I forgot what it means already but I will keep yelling it! And Annem of course!
Finn: I've never heard of it before, just that the village was called 'Het Zilveren Dorp'.
Yannick: Wes came with the fact that Velp was once nominated for Het Zilveren Dorp, and when I did some research for the video I found out that the first name of the village was around the year 800, when it was called Pheleppe. That name came about because of the location in between the Veluwe and the IJssel.
The video starts with a quote from Marcel van Roosmalen. Do you know him, have you seen him in Velp?
Boris: Nope.
Emile: Sadly I've never seen him, but he's a great guy.
Finn: I don't know him personally, but I've seen him around in Velp.
Are there any other Velp celebrities we should know about?
Boris: I don't think so.
Emile: Yes, Brinkie of course!
Finn: Kees Momma lives in Velp now.
The whole video is spots from the Velp area. Are these spots you've been skating since growing up in Velp?
Boris: I think there's only one spot which is still the same, the square in front of the Hema. The rest has changed or it's new.
Emile: Since I started skating I went to the Appie with Finn, there's nice, low curbs (and Coen, the legend, came around sometimes) and there's the rail with three steps that I will never skate again… I have eaten shit there too many times.
Finn: Yep, before we discovered Arnhem, Emile and me were always skating in Velp and definitely a lot of the spots shown in the video.
Is there a difference in spots between Velp-Noord and -South?
Boris: Not so much the spots… haha!
Emile: Yep, it's all different, just like in the rest of the cities and villages.
Finn: In Noord there's a lot of hills, so there's some downhill spots. Velp-South is pretty flat.
Boris, this year was tough for you after you had heart surgery. How was it to end the year by going out with the boys one more time, in your own neighborhood too?
Boris: That was great, especially after all that shit!
Are you trying to keep up with Finn, Emile, Wisse and the rest of the kids?
Boris: No way, these guys are insane!
Finn, we don't see pink football shirts in skate videos a lot. Was this to prepare for the World Cup? Do you have other shirts?
Finn: Pink may have been the wrong colour, it should have been yellow-black, so it wasn't for the World Cup. And yes, I have other shirts!
Emile, how many times did you try the ender?
Emile: A few times, I don't know exactly.
Yannick: All tries are in the video!
Normally Finn is in charge of the big rails, did he claim anything on this spot?
Emile: Yes! He said he wanted to do a tailslide, so I was hyped to sideline for it.
Which trick was the most unexpected?
Emile: All tricks over the big grass gap, I didn't expect that spot too!
Finn: The ender from Emile, but I knew he could do it.
Boris: Emile's ender, so crazy!
In one of the clips there's a sheet of wood with four tags: Public, 100, Velps and something else. Everyone knows what Public is, what's the rest?
Emile: 100, that says enough!
Finn: 100 is our word.
Yannick: Fun fact… Finn brought that sheet with him from home and put the tags on it. His girlfriend noticed he had spelled Public with a G, so he turns the sheet around. Three guesses for how he wrote the next attempt… what a G!
Earlier this year the Presikheaven video came out, with only Presikhaaf spots. Now you've killed Velp, what is the next destination?
Emile: Some weird village in the area of Renkum, I think.
Finn: Oosterbeek, the wrong side of Velp.
Lastly: How much do you love Kadir?
Emile: Sooooo much! Tjoek tjoek!
Finn: I love Tjuk Tjukjaaa a lot!